Tony Backhouse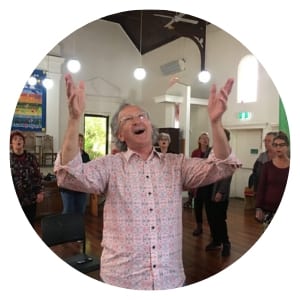 Born & educated In New Zealand, Tony has a BA (English) & a B.Mus (Composition) from Victoria University of Wellington. After university, he sang and played guitar in bands for 17 years, notably NZ bands Mammal, Rough Justice, Spatz & the Crocodiles. Moving to Sydney (where he still lives) with the Crocodiles in 1981, he ended up playing with Renee Geyer & Jackie Orzacsky before forming his own soul band the Vulgar Beatmen.
His musical direction changed in 1985 when he became fascinated by the male a cappella quartets from the black gospel tradition, and Tony subsequently founded a cappella quartet the Elevators, & two a cappella choirs: the award-winning Cafe of the Gate of Salvation & the Honeybees  & later started gospel quartet Heavenly Light Quartet. He has appeared at many festivals (eg. WOMADelaide, the World Choral Symposium in Sydney, West Coast A cappella Summit in San Francisco, the West Coast Sacred Music Festival in Vancouver, East Coast Blues & Roots Festival, Sing Aoteoroa) and toured with the Heavenly Lights to NZ, France & Spain.
He begun running a cappella gospel workshops in the late '80s, and co-founded (with Stuart Davis) the Sydney Acappella Association to promote all unaccompanied singing traditions. Since 1987, Tony has run vocal workshops throughout Australia and New Zealand, as well as Canada, the UK, Italy and France. He has also taken singing tours to Samoa, Fiji, Bali, and remote Australian areas to interact with local communities.
He has received composer commissions from the Song Company & the Sydney Children's Choir, and in 1990 he received an Australia Council International Study Grant to research black gospel traditions in the USA. Tony has made many trips to the USA to engage with black gospel traditions & has led the Café of the Gate of Salvation and the Band of Angels (WA) on tours of the USA, and directed New Orleans choir the Heralds of Christ at the New Orleans Jazz & Heritage Festival Gospel Tent.
He has acted as tour leader and musical director for several gospel tours of the USA taking participants from outside the tradition to sing and immerse themselves in the Black church culture.
Tony's other projects include performing & recording with pianist/composer Peter Dasent under the Blessed Relief umbrella, and with Peter Dasent and guitarist/composer Fane Flaws as The Bend.
For a comprehensive & well-illustrated musical profile of Tony Backhouse (written by Nick Bollinger) go to AudioCulture.
Guidelines
Payment is required in full at the time of booking, by credit or debit card, or direct bank transfer using our secure POLi payment gateway.
We draw special attention to two of our guidelines before registration: Mana provides lacto-ovo vegetarian food only, this means no fish or chicken and is an alcohol and drug free environment.
Cancellation Policy
This group requires a minimum number of participants to go ahead, if that number is not reached we reserve the right to cancel the event.
Should you, for any reason, decide to cancel your registration, please note our cancellation policy :
30 days or more prior to the start of an event, a refund will be made less a $50 administrative fee, and your spot will be offered to someone else.

10 – 29 days prior to the start of an event, a refund will be made less a $200 administrative fee. Event bookings less than $200 receive no refund.

0-9 days prior to the start of an event, no refund will be made.

These policies are reassessed in certain circumstances.